COVID-19 Effect: Interior Design - 5 Tips to Improve Your Home Office
by Lisa Boyer
Hyman Hayes Associate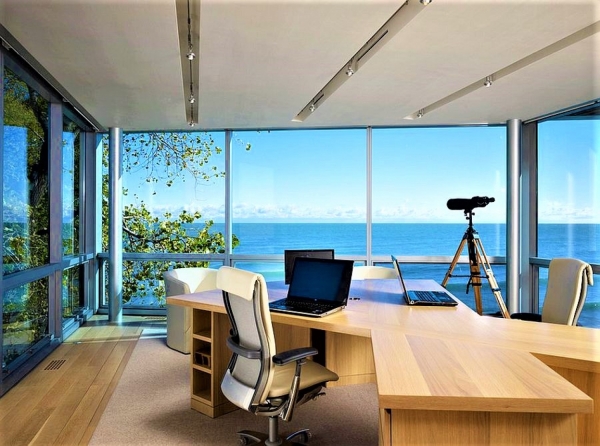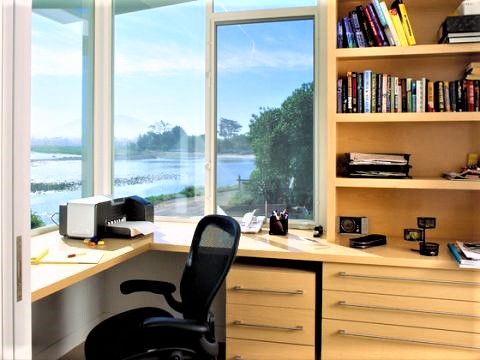 Most of us have been at this "stay-at-home" work-life for over a month now at least. Some of us have gotten into a partial groove, but do you ever feel that you could be more productive? Do you have kids at home that you are now teaching or coaching for those on-line classes? Your significant other working right next to you? How about your suddenly needy pets?
Here are a few tips to help set up and organize your workspace, so you can be more productive and focused:
1. Get yourself into a good morning routine. Prior to this way of living and working, we all had a routine. We would wake, shower, make/eat breakfast, and prepare lunches. Some of us would even get a workout in. Try to keep that routine. Try not to sleep in. Get these things out of the way, so everyone is ready to spend some time focusing on office work, school work, or dog/cat tasks.
2. Carve out a space large enough for your computer and a writing area at least. If you can set up a space for all the others in your family too, that will help everyone stay occupied longer; then you can be more efficient. Try to rearrange your furniture, making room for more spaces for the family, so you aren't all crowded around the same dining room table.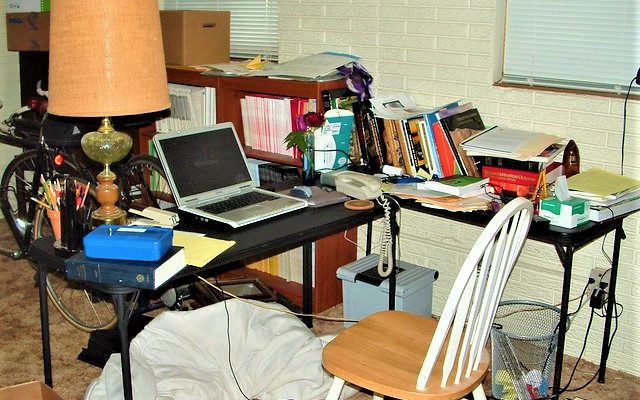 3. Try to have space with some good natural light. I understand most of us (like myself) have had to camp out in the basement at a random table or desk. But make sure you take enough breaks and get some daylight! If you can push your desk up against a window, that would be a great option! Everyone deserves a corner office with a big window now! Also, it will help to lessen any 'isolation' feelings you may have. Read my colleague, Senior Architect Mike Dobereiner's article about biophilia here, it will give you the explanation why!
4. If you haven't already, please get yourself a comfortable desk chair. Not a folding chair you found in the garage that you bring out for quick extended family dinners. Not a dining room chair... get a good, comfortable chair. It will make a difference in your efficiency, and your body will thank you later!
5. Try to keep your desktop clean and organized. Find items around your house such as a coffee cup or short vase to hold pens, pencils, or markers; folders to keep your notes, and papers in organized piles. Maybe even find a bin or a basket to hold the folders and other miscellaneous notes, papers, or bills that you need to keep on hand. A small bowl for other miscellaneous items that seem to keep finding their way to your desk area. Find an attractive coaster to keep a space designated for your water, or even an area for your snacks.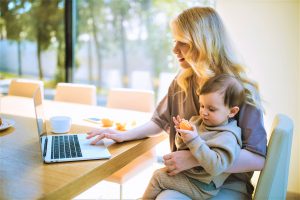 Some of you may be thinking, "Yeah sure - these ideas make sense in an ideal world - but my reality is - there is no way my kids will get off my lap, so I can talk on this conference call," or "I don't have any place but the basement to work in." And sometimes, the reality will be that you forget to take a break or eat your lunch and realize it is already 3:45 pm, and now you have to start thinking of what dinner will be. If you can implement at least one or two of these 'design' tips, it will help you! At least then, you will feel that you were focused on work for the day and were productive. The key is to keep trying. This is a challenging time for everyone, so putting your best effort forward is all that can be asked of you.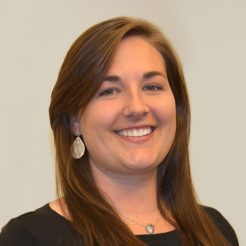 With over eleven years' experience, Ms. Boyer specializes in project management and interior design for healthcare, commercial, and laboratory clients. Lisa has the ability to manage all phases of an architectural project from the conceptual design phase through to the final construction phase, as well as providing interior design services for many of our long term clients. Her responsibilities include, but are not limited to, interior design and planning, including lighting and furniture; design implementation; supervision of the design and production of construction documents; engineering coordination, and construction services.