Looking Back: Pandemic in the Capital Region & Yonkers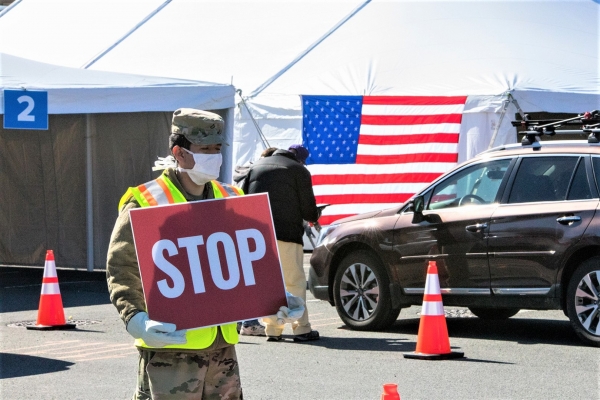 What Can We Learn About Our Healthcare Facilities (HF)?
March 12, 2020 - SUNY campuses ordered closed.
March 20, 2020 - Stay-at-Home Order declared.
March 25, 2020 - Nursing homes had to admit Covid patients.
May 10, 2020 - Nursing home order revoked.
During August and September of 2020, after the pandemic's first wave, HHA conducted several interviews with Capital Region & Yonkers Emergency Departments and a large Nursing Home/Assisted Living Facility.
Findings: The Following Responses Are Taken Directly from Those Surveyed within the Capital Region: Albany, Schenectady, Rensselaer, Saratoga, and Yonkers.
What worked in Emergency Departments:
Emergency Department Numbers:
Pre-Covid-19 emergency rooms, including pediatrics, would see on average 245 patients per day in major hospitals.
During the first wave at the peak of Covid-19, that number jumped to 400 patients per day.
Local hospitals did not run out of space, but came close.
Closer to NYC, hospitals became Covid hospitals.
Non-Covid patient numbers dropped off significantly in the ER – a theory being they found alternative help, left the city, or just didn't seek help.
Tents were Invaluable:
Pandemic tents were erected near many hospitals to perform pre-admission testing.
Non-symptomatic Covid patients were tested if necessary, and then sent to the ED if negative.
If ambulances suspected Covid, they would go to the tent first.
The majority of tent patients were discharged in 30 minutes.
If patients were not very ill but tested Covid positive, they were sent home to isolate.
If patients were very ill, they went into the hospital to negative pressure room for further testing.
Visitors:
Hospitals did not allow family members in the ED. This caused anxiety for patients and families.
Face-to-face technology was used whenever possible (e.g. videoconferencing on tablets).
Telemedicine:
Helpful, safer, and more efficient for doctors to use iPads when speaking to patients in the Observation unit.
WOW:
Workstations on wheels (WOW) worked very well.
Challenges:
Staff dressing into PPE and sanitarily disrobing significantly increased time away from patient.
Patients refusing to wear masks.
Telemedicine had positives, but also negatives: cannot take vitals, touch patients - could miss something.
Social distancing patients in waiting rooms.
Having enough communication devices to help with patient and staff support.
Timely communication with the pharmacy to reduce drug shortages and request Covid test kits available.
Future Emergency Designs Suggested:

Be able to create Covid and non-Covid entrances to EDs, separate waiting rooms, exam rooms.
More flexible spaces: put 2 patients into larger room; use vertical waiting for Covid patients.
Units should have own HEPA capable HVAC unit.
Outdoor/indoor staff space beyond the clinical area for them to decompress.
Automatic doors into the treatment rooms.
Negative pressure treatment rooms.
Radiology rooms separate but close to the ED for Covid and non-Covid patients.
"Vertical treatment area" like post-op but with negative pressure.
Increase the use of telemedicine to screen patients.
Provide doctors with a space for telemedicine.
What worked in nursing/assisted living homes:
Administrator/Employee Actions:
Employees used universal precautions: washed hands, sanitized hands, wash hands again, wore masks/ gowns.
Staff entered and exited through the same door.
Clorox 360 machines located throughout the facility, used multiple times a day.
Created a special Covid unit when more than 2 patients showed symptoms.
Campus wide task force meetings 3x a week – err on the side of caution in all matters.
Weekly communication with staff, patients, residents and family. Tell everyone everything.
Resident Life:
Socialized in courtyards – social distance and mask.
Used face-to-face technology - iPads
Patients' movement limited.
Meals delivered/eaten in separate rooms.
Group activities suspended.
Challenges:
Admittance of Covid positive patients caused difficulties when they could not be denied.
*In May, NYS nursing homes were permitted to deny positive patients.
Telemedicine did not work well. Nursing homes need in-house visits to be effective for patients and residents.
Upon hospital discharged, patients still needed to test negative before returning to normal activities, so they were isolated for 14 days.
Patients remained bedside instead of going to rehab gym.
Limited PPE; staff had to bring in sewing machines to make masks and gowns in-house.
Staff going out into the community – prior to vaccines being available.
Cost of Covid testing - staff and patients - was exorbitant.
Significant spike in staff testing positive for Covid, although majority did not have symptoms.
Difficult to find replacement staff when staff was ill.
Nursing Homes/Assisted Living Homes Designs Suggested:

React more quickly to a positive Covid cases.
More single rooms.
More outside areas.
More staff.
More PPE.
More cleaning supplies.
Hazard pay.
Better ability to all group dining and activities.
Visitation for family members in meeting rooms.
Virtual Skype with larger screens on carts – iPads.
Looking into ultraviolet light.
Create new centers with smaller pods connecting.
Where are we now?
December, 2020
Capital Region (Albany, Schenectady, Rensselaer, Saratoga, Columbia, Greene, Warren & Washington) nursing homes receive first vaccines
December, 2020
Capital Region Hospital Workers receive a Covid vaccination.
January 4, 2021
After the holidays, Capital Region's Hospital capacity surges to 2,000 in one day.
January 15, 2021
Covid detected in our region 10 months ago; at Ualbany first mass vaccination site opens.
April 29, 2021
Capital Region = 37.7% vaccinated & 50.4% first doses
New York State = 32.6% vaccinated & 45.1% first doses

We hope you will share some of your recent experiences during this pandemic. The purpose of our conversation is for HHA to gather information to help Architects design Emergency Departments and Nursing Homes for more efficient patient care during a Pandemic and for the future.
Please offer your insights by answering the following three questions and email your responses to Tara O'Neill at toneill@hymanhayes.com:
What worked in your healthcare facility?
What were the challenges?
From your experience within your healthcare facility, what changes will be necessary for the future?
Anyone who responds will receive a copy of all responses.
Thank you!
- Research by M. Hyman, Principal of HHA, edited by T. O'Neill Director of Business Development