Teaching Emotional Resilience in Nursing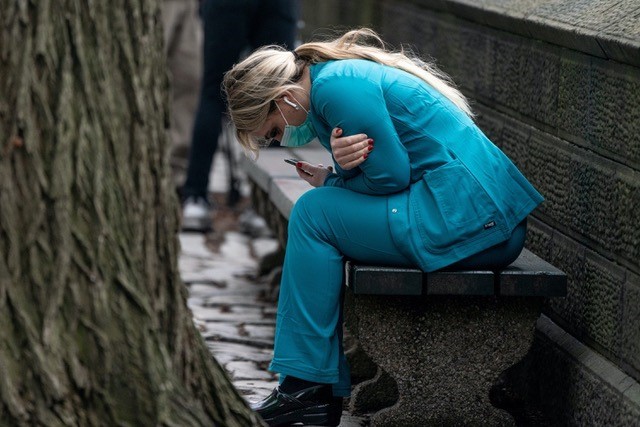 When the World Health Organization designated this as the "Year of the Nurse," they had no idea what the year would hold in store. Nursing has always been tough work, but this year nurses are finding themselves on the front lines of a global pandemic, and the emotional toll is yet to be fully realized. Yet, they keep showing up for society to deliver compassionate care with extraordinary skills while bravely risking their lives, as well as their family's lives. For this, we are immensely grateful.
We owe it to nurses, especially graduating and first-year nurses, to prepare them for the circumstances they will inevitably face and to provide them with appropriate emotional training and support. How can we prepare nurses for what they are likely to experience as an "emotional battlefield"? This is a question I posed to several nursing educators. "Grit and resilience" are to be learned, but how during these perilous times? The answer must include simulated learning experiences which are increasingly considered critical components of this type of learning.
A CHALLENGE FOR NURSING:
Nursing represents the largest component of the healthcare workforce, and it may be the most demanding. The majority of direct patient care in hospitals falls squarely on the shoulders of nurses, who often experience excessive physical, mental, and emotional exertion. Approximately, 85% of nurses report suffering job-related fatigue and 63% indicate they have experienced burnout due to work (Kronos Incorporated, 2019).
Stress is pervasive in nursing. The work is demanding and complex. Hospital environments can be bright and noisy, and there's little to no sense of control over stressful events, such as the death of a patient. Nursing is physically demanding and work-injuries have become more prevalent. Patients are twice as heavy as they were 30 years ago, and nurses are at risk for patient-handling injuries such as neck or back strain. Also, an aging workforce and a shortage of new talent to replace them are placing even more burden on nurses who remain.
The first year of nursing in a hospital setting is the hardest. Nearly 18% of newly licensed registered nurses leave their first nursing job within the first year and roughly 34% leave within two years, according to a 2014 study in Policy, Politics & Nursing Practice. Instead of offering support, many first-year nurses are bullied by their counterparts with more experience. "Nurses eat their young" is a common phrase in the profession, and this culture of "hazing" young nurses is difficult to change.
This was the "status quo" before COVID-19. The pandemic has turned American hospitals into "war zones." It is anticipated that many front-line workers, including nurses, will suffer from PTSD. Healthcare workers talk about being scared to go to work, anxious that they will become infected as they are often not provided adequate PPE. Moreover, they are finding themselves in heartrending circumstances as intermediaries between family members and their infected loved ones whom they are not allowed to visit, even when the loved one is nearing death.
A CHALLENGE FOR NURSING EDUCATION:
Regarding COVID-19, a Texas nurse with 17 years of experience in emergency rooms wrote: "Never seen anything like this. Protocols change minute to minute, if there are any at all…for the ?rst time in my career, I am scared to go to work."
A surgical technologist stated: "I must say during this tragic, emotional, and deadly time, I have never been so devastated. I know as health care workers; we are not only on the front line but on a battlefield!"
How can first-year nurses be prepared for this? According to most educators, you can't fully prepare anyone for these experiences. However, understanding and dealing with the demands of real-life clinical settings, including those of emotionally stressful experiences, must be confronted in nursing education. For this type of learning, a student must be immersed in real-life clinical situations and properly debriefed to work through their emotions, evaluate their actions, and assess their reasoning within a variety of possible scenarios.
Nursing programs require hours of clinical time in healthcare settings as part of their curriculum to provide real-life experiences. The problem is the types of experiences that nursing students can receive in healthcare settings are becoming increasingly restrictive. It has even been reported that some settings are only permitting observation of nursing care with no direct patient contact, thus curtailing the development of the clinical reasoning and decision-making skills needed to provide safe quality care according to the American Nursing Association's (ANA) whitepaper (January, 2020), "Simulation in New York State Nursing Education."
SIMULATED LEARNING EXPERIENCES:
This is one reason why simulated learning experiences are a critical component of educational programs in nursing. They fill the void created by limitations in clinical placement. Many states recognize this and allow for between 25% and 50% of simulation substitution in their bachelor's degree nursing programs. However, in New York State, the regulations are silent on the use of simulation as a substitution for direct care experiences, and as such, simulation-based learning experiences are not permitted to count towards program clinical hours, in most cases. They are only expressly allowed to replace practice laboratory experience.
Currently, the ANA, in collaboration with several other nursing organizations and simulation educators across the state, has submitted a proposal to the New York State Education Department (NYSED) requesting that up to 50% of traditional clinical experiences be replaced by simulation. The paper also presents research that demonstrates clinical learning outcomes can effectively be achieved by simulation. In addition, the National Council of State Boards of Nursing (NCSBN) provides "Model Rules" on the use of simulation in pre-licensure nursing education programs to be considered when drafting regulatory language.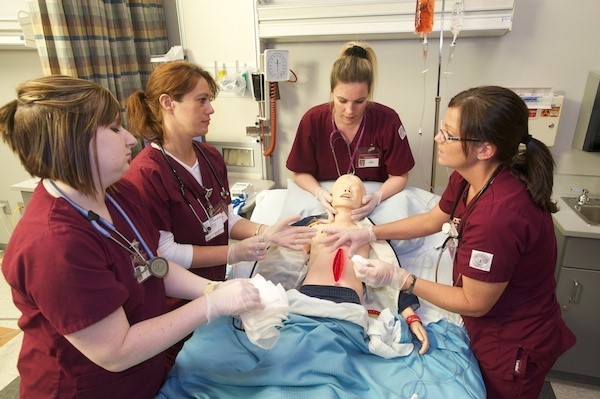 One common misconception about simulation is that it's all about talking to robots. Yes, both low fidelity and high-fidelity mannequins (animated remotely) are used in the simulation. However, there are many other forms of simulation. For example, they include simulated patients, a person who is acting a role, and standardized patients or actors, who are specially trained to do more than reading from a script. They present their own personal, physical, social, and psychological history and are also trained to educate and give feedback. Finally, there is a virtual simulation and internet-based simulation. Many schools are using internet-based simulation as their primary method this year because they are unable to open in-person simulation labs this fall.
The ANA White Paper describes simulation-based learning broadly as follows:
Simulation-based learning experiences (SBLE) include unfolding realistic cases in which learners must notice patient conditions, interpret multiple data points and interactions, respond to improving patient status, and reflect to learn from the immersive experience (Lasater, 2007; Tanner, 2006). Simulation provides realistic, context-rich experiential learning in a safe environment and can be delivered in a variety of modalities (manikin-based; simulated participants; XR simulation spanning virtual, remote, screen-based, and evolving modalities).
The educators, who were interviewed, were all in agreement that simulated experiences should not completely replace clinical experiences. Rather, that a balance of both traditional clinical experiences, along with quality simulated experiences, will provide the richest overall experience for students. The keyword here is quality. Quality is not dependent on expensive simulation facilities and equipment. You could have the largest most expensive simulation lab with high fidelity mannequins and still fall short on delivering a quality learning experience. You have to teach it right. You have to know the pedagogy. Moreover, the main ingredient is not technological, it's educational. It includes pre-work, reading, looking at charts, and other research, as well as the debriefing and evaluations after the simulation. This depends, in part, on proper staffing. Simulation labs must have both technicians and educators, and the same people should not perform these functions according to best practices.
The debriefing is critical to a quality learning experience and to be done effectively should follow an established framework such as PEARLS (Promoting Excellence and Effective Learning in Simulation).
The PEARLS framework integrates 3 common educational strategies used during debriefing, namely, (1) learner self-assessment, (2) facilitating focused discussion, and (3) providing information in the form of directive feedback and/or teaching.
By following this framework, the student has an opportunity to self-reflect and come to terms with his/her own emotions first, so they can then more effectively move on to other goals such as clinical decision making, improving technical skills, and teamwork training.
Many forms of emotionally stressful situations can be simulated for educational purposes. Breaking bad news to patients or family members is an example of a very challenging situation that occurs in nursing and is often simulated for education. Other emotional scenarios include the treatment of injuries resulting from domestic violence or rape. End of life scenarios are particularly difficult and pertain to today's pandemic. Some nursing programs use end of life scenarios where the patient dies regardless of the student's actions. This can be a particularly heartbreaking reality that graduates may face in real-life. "I killed them," they might say to themselves. "No, the affliction killed them," they will hopefully learn.
In simulated learning, this is all done in a safe, supportive environment and has been demonstrated to be the best way for educators to prepare their students for a variety of real-life clinical situations. Typically, emotionally stressful lessons are reserved for advanced students in their final year. You don't always know what will trigger a student, and sometimes there are highly emotional responses. According to educators, at these times, you have to respect that and allow the student to excuse himself/herself.
EMOTIONAL RESILIENCE IN HOSPITALS:
Ideally, this type of learning and supportive communication should also take place in hospital clinical settings, and according to some nurses, there is a movement toward more constructive self-reflection and dialogue in hospitals. According to Elizabeth Horsley, RN MSMS CHSE, Director of Simulation at the Brooklyn Hospital Center, they have started using a technique call the "Schwartz Rounds" to promote supportive peer to peer communication.
This is a regularly scheduled forum where "healthcare providers meet during their fast-paced work lives to openly and honestly discuss the social and emotional issues they face in caring for patients and families. In contrast to traditional medical rounds, the focus is on the human dimension of medicine. Caregivers have an opportunity to share their experiences, thoughts, and feelings on thought-provoking topics drawn from actual patient cases."
According to Director Horsley, they have also been exploring Harvard's "Circle Up" at the beginning, middle, and end of every event. This has also been implemented at New York-Presbyterian, according to Professor Kellie Bryant DNP, WHNP, CHSE, Executive Director of Simulation and Assistant Professor, Columbia University School of Nursing. Circle Up is a technique by the Harvard Center for Medical Simulation that includes briefings, check-ins, and debriefings to "boost clarity, coordination, and resilience in the healthcare workforce."
According to Professor Bryant, one gap in many current educational programs are the concepts of poverty and race, and she has been working to promote a better understanding of how to deal with these issues in nursing. These are ideas that will likely be worked into simulation scenarios in the future, if not already. One of the benefits of simulation education and debriefing techniques are that they are adaptable, and the educators are creative. As we progress in our dialogue as a community, these techniques can evolve to reflect our growing understanding of emotional stress in healthcare settings and translate that knowledge into a more emotionally resilient workforce, including during extreme circumstances like a global pandemic.
ACKNOWLEDGEMENTS:
I would like to thank a group of nursing educators who helped me with this article. In multiple conversations, they generously shared their knowledge and experiences. They belong to Simulation Educators of Eastern New York (SEENY), a "volunteer organization of interprofessional simulation educators focused on sharing knowledge, resources, experiences, and innovations."
In particular, I would like to recognize the contributions of:
Sara Manning, MS, RN, CHSE
Elizabeth Schwartz, MS, RN
Dr. Maria Bajwa, MBBS, MSMS, Healthcare Simulation Educator, Nursing SUNY Broome
I would also like to thank the following researchers and nursing educators who shared their time and knowledge with me for this article:
Elizabeth Horsley RN, MSMS, CHSE, Director of Simulation at The Brooklyn Hospital Center
Kim Leighton, Ph.D., RN, CHSE, CHSOS, ANEF, FAAN, Executive Director, Itqan Clinical Simulation and Innovation Center at Hamad Medical Corporation
Kellie Bryant DNP, WHNP, CHSE, Executive Director of Simulation and Assistant Professor, Columbia University School of Nursing
Bryan K. Dang, BSN, RN, PHN, Product Manager Syminar, Inc.
About the Author: Michael Dobereiner, AIA, LEED A.P., is an HHA senior project manager/project architect with almost three decades of experience in the design and management of higher education, governmental, institutional, and commercial projects. Mike is responsible for the management of design teams including client interaction, meeting project schedule and budget, producing high-quality construction documents, and construction administration supervision. To achieve this, Mike works closely with the client and project team to enact the program requirements and develop the project design. He is also actively involved in the firm's business development and sustainable design efforts.
Mike's other articles:
"COVID-19 and Sustainability"
"Architectural Psychology and Biophilia in Healthcare"